Revolutionary lightweight tent system
Pioneers in world leading structure design
Röder HTS Höcker has developed a new revolutionary generation of temporary structures which combine the use of CARBON with Aluminum for the main frame components. 
This new structure system reduces the weight of the main profiles (uprights and rafters) by an impressive 30%. This weight saving translates into substantial advantages for the user in terms of general loading, handling of the product together with reduced installation costs.
Although only recently launched, this new product has experienced great interest from leading rental companies who have acknowledged the real advantages of the new CARBON-Structure range.
Key features CARBON clearspan structures 
unique patented system Röder HTS with extremely high durability,

1/3 money savings on montage and demontage of a hall (for construction of alu-carbon building is no need then few people, there is less mechanization process and all together less time - montage itself is three times faster)

light components ensuring easy manipulation

the width of the hall can be 40m without any supporting column 

fabricated in Germany according to ISO 9001:2008 standards.
Weight advantage comparisons of main profiles between a traditional Röder HTS Alu-Structure and the new CARBON-Version.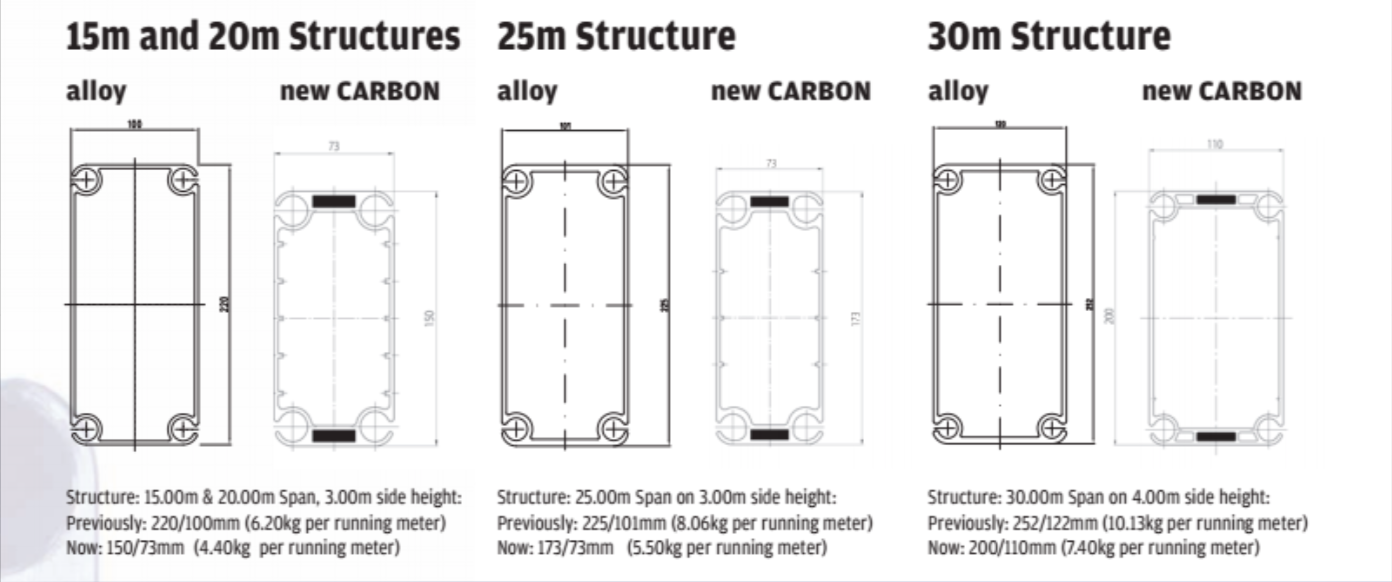 Financial advantage comparison when comparing installation and dismantling times
Traditional aluminum frame structure 
 € 3,780.00
New CARBON structure

 

€ 2,250.00

Saving

€ 1,520.00 Euro per event 

 
Read what our customers say

"The new CARBON-Structure is completely faultless. This product allows us to cover ground with structures more economically than ever before. Thanks to the extremely lightweight framework we now save significant costs on both transport and labour. Previously we would allow for 7 men when installing a 15m span on 5m bay distance on 3m side walls - now we can do it safely with 4 men with no need for machinery - Thank you Röder HTS Höcker! - Fabrice Karrand of LocEven, France
"The structure is easy to transport and very quick to erect. We need only one trailer for loading our 30m x 70m structure - this brings us significant financial savings in transport costs, due to the nature of our work, our projects cover a very wide geographical area therefore the less transport per project the better. However the best advantage for us is that we have option of using the structure width between 20m and 30m span structures." - Michael Nilsson of MSP - Finland